Noise Reducing Blinds: Best 4 Options for Home & Office
Windows are thin and often poorly insulated. This leads to a lot of sound coming from the outside into the room and from the room outside.
Therefore your peace and quiet can be ruined by the traffic noise, by a loud neighbor or any other noisy activity happening outside the window.
At the same time, the privacy in your own home or office is also jeopardized. Anyone who gets close enough to the window can hear the regular activities happening inside. In order to solve these problems, I've shown you all the best window soundproofing tips in my previous article.
But in this one, I'd like to share the best sound absorbing window blinds. Blinds can be used on their own or in a combination with other materials.
The most convenient combination is foam tape used to insulate the window frame, blinds mounted on the window and thick noise-blocking curtains hanged from a curtain rod in front of it.
This great trinity of window soundproofing is a guarantee for great results. So let's take a look at the available blinds.
Mini Buying Guide
These are the features you should look for when purchasing sound absorbing blinds:
1. Density
It goes without saying that denser material has less gaps. Which means that there is less space for air and sound to fall through. This makes denser blinds better at both thermal and sound insulation.
2. Thickness
Thicker blinds will protect better against noise. This is usually true of any soundproofing material. You should choose blinds that are at least 10 mm thick for any decent noise-blocking results. Luckily, most of the average-priced blinds are closer to 15 mm in thickness.
3. Material
Polyester, wooden and even plastic blinds are preferable to metal blinds when installed inside the room.
Generally speaking, softer materials are always better, because they absorb the echo inside the room, instead of letting it bounce off as it typically would in case of a hard, reflecting surface.
Installed outside, the sound blocking effects are similar regardless of the material. The most important factor with outside installation is the thickness of the blinds.
4. Size
The dimensions of the blinds should fit the window. Too large and you won't be able to install them properly. Too small and they won't cover the entire window area which will lead to gaps on the side that will let sound pass through easily.
5. Price
Decent sound absorbing blinds usually cost between $30-$60. But the thicker wooden blinds that really block A LOT of the sound are generally above $100.
That has been my experience, and looking at the ones currently available on the market, not much has changed since 2016. when I purchased these cordless blinds (link to Amazon) for my kitchen and living room.
5 Best Sound Absorbing Blinds
1. 

Custom Cordless Single Cell Shades by Windowsandgarden
These made in USA blinds are the ones I installed way back in 2016., and they're still as good as new.
What I like about them is the soft polyester material, the awesome design and that they can be cleaned easily with a regular duster.
While I installed mine inside, they can be installed on an outside window mount as well. You can order one or both mounts with the blinds.
With over 90% of 5 star reviews on Amazon, these are also the highest rated blinds on the market. The large choice of dimensions (almost 50 different sizes) and 9 colors probably has something to do with that as well since they can be fitted basically anywhere.
Speaking of things I didn't like, I still wish they were a bit thicker. While their sound absorption has been good enough for my living room, I still decided to hang noise-blocking curtains on my bedroom window to really cancel the traffic noise. If you have a lot of noise, you might have to do the same.
At under $40 and featuring an unlimited lifetime warranty, it's really hard to go wrong with these cordless blinds. Just make sure that you order the right dimensions to fit your window. Even though it's not uncommon to send them back and order a different size. There's that lifetime warranty after all.
Was this love at first sight or not? Either way, you can check out their current price, reviews, and more information on Amazon.
2. 

Custom-Made Real Wood 2″ Blinds by Luxr Blinds
These are the blinds I'd get if the noise was driving me through the roof. Wood is an awesome noise-blocker AND thermal insulator. But there are some other factors to consider:
design – awesome
installation – easy, comes with an inside mount, installation manual, and customer support number if you get stuck along the way
cleaning difficulty – wipe them with a rag any you're done
blackout – fully adjustable
different sizes and colors – yes
price – above $100
As you can see, the positives are numerous, but the price does reflect them. But considering the fact that well polished wooden blinds can last for decades, it's a great long-term investment and actually pretty affordable for wooden blinds. And you won't find any other material that can absorb AND block sound as well as basswood.
Before ordering these blinds or any others, make sure to read the measuring requirements and follow their instructions. This will ensure that you order the ones that actually fit on your window properly. This is the measuring guide for these Luxr blinds: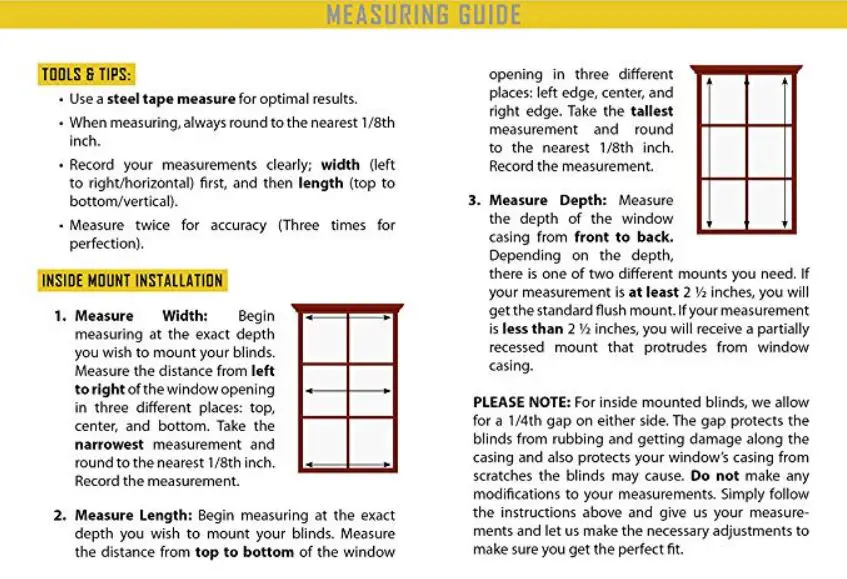 These are generally good tips for measuring for any blinds. But the required measurements and their implications can vary with blinds of different size.
So these Luxr blinds are a top choice in overall quality and sound absorbing capabilities. They have a great record with customers, with over 80% of customers providing 5 star reviews. You can see the current price, info and reviews on Amazon.
3. Country Rustic  2″ Wood Blinds by Delta Blinds
These blinds also have a great reputation for sound absorbing.
Two users on a home improvement forum I frequent installed them recently and were quite impressed with the results. The blinds are made from 100% kiln dried thick basswood, which probably has something to do with it. 🙂
They also have the Greenguard Air Control and Greengaurd Schools & Children certification, which proves that they're safe for indoor use in any areas.
These blinds are meant to be installed from the inside, and have an inside mount for that purpose. As always there are about 50 different dimensions and 6 colors to choose from.
However, the team at Delta Blinds recommends these blinds for window casings that are at least 2-3/4″ deep, otherwise they might protrude from the casing. In that case you'll be able to see the metal installation brackets from the side angle which is not a pretty sight.
With 90% plus 5 star reviews from verified customers, these blinds are proven quality. They're almost half the price of the previously mentioned basswood blinds, which makes them a pretty affordable option considering the high quality of the material and sound absorbing potential.
4. 

2″ Vinyl Blind by Achim Home Furnishings
These affordable vinyl blinds are the most popular budget option.
They are really dense and can provide blackout and sound absorption. They can also be adjusted using the cord for more light to enter the room. Of course, doing this reduces the sound absorption.
As you can see from the photo, these blinds are really dense, but at the same time there are visible crevices in-between even when they're fully closed. These crevices improve echo reduction, which can be helpful if you install them inside the room.
The blinds are also waterproof and don't chip or fade under normal circumstances. Basically, these are very simple and affordable option while still providing solid sound absorption. They're on a big 38% discount at the moment of writing. Check out the current price to see if that's still the case.
They're not as good as the wooden blinds though, which is hard to expect. So I suggest using them in combination with noise blocking curtains for improved thermal and sound insulation.
How to Install Window Blinds?
Here's a helpful video tutorial that shows you how to measure and install blinds on a window:
Final Word: Best Sound Absorbing Window Blinds
There aren't many blinds made specifically for absorbing sound. So we need to look at their features to see which ones can do the job well: the material they're made from, weight and thickness, density and design all have a part to play.
Considering these factors and from the experience I've had installing blinds in my own home, these seem to be the best ones on the market for lowering noise and improving privacy, while also being relatively affordable.
You'll probably agree that windows without blinds or at least some nice curtains can look quiet barren and empty. After all, windows are a large area in the wall, and covering them with well designed blinds and curtains can really uplift any room.
Also, check out my full window insulation guide to learn about other effective methods as well.