How to Soundproof a Deer Blind
Deer blinds are awesome for staying camouflaged when hunting deer and other wild prey. As they come close enough you can surprise them with a quick bullet from God-knows-where.
But often a chance is lost due to a small sound made produced by movements in the deer blind. Even a small movement like positioning the rifle could cause some squeaking or creaking noise that chases the prey away.
Wild animals have a very sensitive hearing apparatus so it's no wonder when that happens. You probably missed your chance of shooting dozens of deer already because they were chased away by the noise.
I'm not saying you're a poor hunter! The noise is often outside of our control. But you can improve your success rate by a large margin by soundproofing your dear blind.
This is a simple process and it's pretty affordable. All you have to do is apply a few standard soundproofing materials on the noisy parts of the deer blind.
1. Apply rubber paint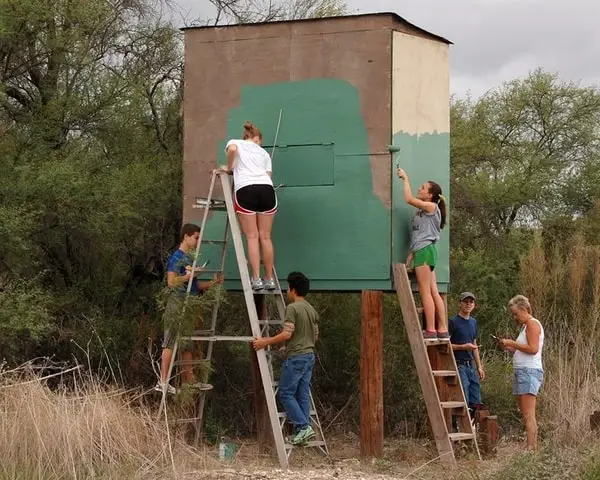 Rubber paint is not the most effective soundproofing material out there. But it works well for dampening noise and it's easy to apply with a brush or a roller.
It also provides protection against rust on nuts, bolts and screws and parts where the original paint chipped off.
If you want to get better noise-dampening results, use a liberal amount of coating. The best rubber pain is Flex Seal's Liquid Rubber (link to Amazon).
It's durable, and able to withstand extreme weather changes. You can expect it to stay in shape for years, as most user reviews show. And of course, it can be used to paint over wooden and metal surfaces equally well.
2. Insulate the struts and tubular bars with tape
If you have a stand with support struts and tubular bars, they can also produce sound during movement. You can prevent this noise by wrapping them with simple foam insulation tape.
I really like this closed-cell foam tape because it provides shock-absorption, is fairly thick and resistant against water, oil and other common environmental mishaps.
3. Cover the shooting rails with foam
Pipe insulation foam can be used to wrap the arms of the stand and the fold-down shooting rail if you have one.
When you place the rifle on the rail it might cause noise at the worst moment possible. So by dampening the rail your prey won't know what's coming! Plus, it can serve as a quiet gun rest if deer come from the other sides.
Use duct tape on the pipe foam if you had to cut it open to place over an object.
4. Use dry graphite lubricant on the joints
Squeaky joints are definitely a noise problem. They can be even more troublesome during rain and in more humid hunting grounds.
Graphite lubricant is a commonly used silencer where two metal parts interact with each other. It can reduce friction and squeaks in a manner of seconds.
There are different ones you can use, such as sprays or squeeze tubes, but tubed lubricants in my experience provide better application for smaller areas.
Aside from lubricating the joints of a deer stand, this lubricant can come in handy for lubricating vehicles, folding knifes and other metal items.
5. Soundproof the walls with MLV
MLV (Mass Loaded Vinyl) is an effective airborne and impact noise blocker that is commonly used for soundproofing engine compartments, vehicle cabins, house and apartment walls (installed directly on the studs) and for soundproofing appliances.
If you want to REALLY reduce the noise coming from your deer blind, cover the walls with MLV. First cut MLV to size for each wall with a knife. Then nail it/screw it or glue it with a spray adhesive to each surface. Repeat the process for all the walls, including the ceiling and possibly the floor as well. And don't forget the door either.
MLV has a black, vinyl look, as the name says. It can have a slight smell at first, but it dissipates after a few days. It can be painted over with latex paint if you don't like the black aesthetics. Or you can cover it with a fabric of your choice or soundproof foam panels as explained in the next tip.
The important point is that it works, and it's fairly thin, so it doesn't take too much space away from the room. I consider this to be a useful trait for deer blinds which are typically small and can easily get crowded if there's more than 1-2 people inside.
6. Cover the inside with soundproof foam
The so called "soundproof" foam will not block the noise to any significant extent. What it can do however, is dampen the noise and reduce the echo in your deer stand. I would personally use it to make the place more comfortable and for additional thermal insulation as well.
The easiest way to place soundproof foam is by installing acoustic foam panels on the walls. They can be installed by using hanging strips or a spray adhesive.
Hanging strips hold well, but if you plan on installing the panels permanently anyway, a better option is to use a spray adhesive.
Here is an example of a deer blind insulated with foam panels: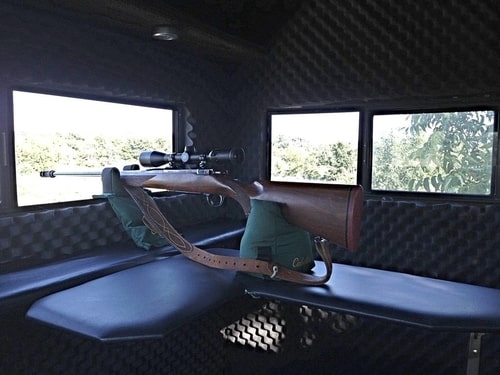 If you're interested in this option, check out my acoustic panel recommendations in this article.
7. Cover the floor with thick and soft material
Reducing the squeaks and banging noise from foot traffic is easy. Cover the floor with a thick rug, carpet or rubber mats.
I'm a fan of interlocking rubber floor mats that are often used in commercial gyms. They are anti-skid, liquid proof, substantially reduce foot traffic noise and impact noise in case anything heavy falls on the floor.
The liquid proof trait is the reason I prefer them over rugs and carpets which can get messy pretty quickly, especially if you're walking around in rough terrain.
Having said that, I think these 3/8″ thick rubber floor mats would look pretty great in a deer blind. Notice that there are 6 other colors to choose from as well.
8. Texas Hunter Quiet Deer Blind
This is an expensive but effective deer blind. Some features make it much quieter than the competition, so I decided to include it on this list in case you'd like to modernize your deer blind.
This deer blind includes:
Eye Level is 8-feet with 4-foot Powder-coated Steel Tower 

Maintenance-free Starboard XL Marine Siding. The most advanced outdoor hunting blind material with fade-resistant UV inhibitor

Unique Hide-A-Way Window System with Unobstructed 360° View

Large Quiet Sliding Door provides easy access for hunters and gear

Blind ships assembled via Motor Freight in Continental US on Pallet for Easy Handling 
There are four things that I particularly like about this deer blind:
First of all, the window system allows the hunter to close the window as much as is needed and to have a few 360 degree view when needed.
The quiet sliding door prevents any squeaks and is large enough to move any gear inside all at once.
Furthermore, the floor is exceptionally quiet due to the plywood and the coating material. One user specifically pointed out that the in-built floor insulation allows him to move from one one window to the next without causing any noise.
This deer blind is also pretty spacey. There is 6 feet and 3 inches of headroom so it's big enough to remain inside for longer periods and even having enough space to stretch properly every once in a while.
And finally, this deer blind is fairly light, easy to transport and assemble, but once it's assembled it can stay on any location permanently. Due to the maintenance-free construction, it doesn't get damaged by weather changes like a typical wooden or metal deer blind that requires constant petting and love. You can leave this bad boy in the wild and it won't age a bit by the time you're back.
The only bad thing about this deer blind is the price. Unfortunately the price reflects the quality, so it's probably too big of an investment for most recreational hunters.
But if you're looking for a way to treat your best friend (yourself) for all the good work you've done over the years, this is certainly a proper way to do it.
Click here to see the current price and customer reviews for this deer blind on Amazon.
Final Thoughts
Soundproofing a deer blind is not entirely possible. Because if you keep the window open, and you have to do that if you plan on hunting down any wild game, air can travel in and out of a room and so can the noise.
But you can significantly lower the amount of noise by soundproofing the walls and eliminating the squeaks and creaks coming from the floor, the shooting rail, and various metal parts.
Or you can purchase the quiet deer blind from Texas Hunter mentioned above that allows you to open the window only slightly and more quietly. This can also have an impact in reducing the sound.
So those are some useful ideas you can implement by yourself without too much trouble. Hope this helps!